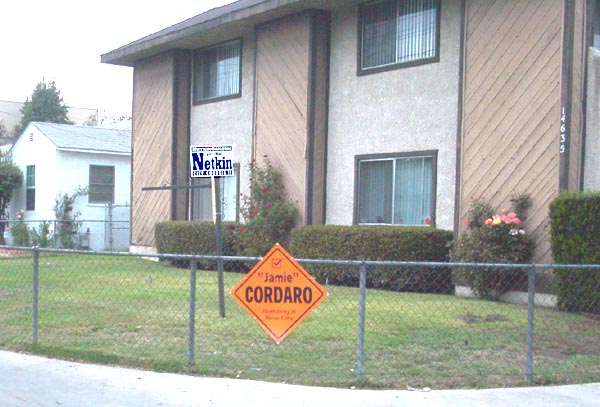 Cordaro placed the sign shown above on this apartment fence without permission from the the apartment manager, who is a personal friend of mine. My sign which can be seen on the inside of the yard, was place with permission and was visible to Cardaro when he placed his sign there on Saturday, October 12, 2002. The manager removed Cordaro's sign th same day.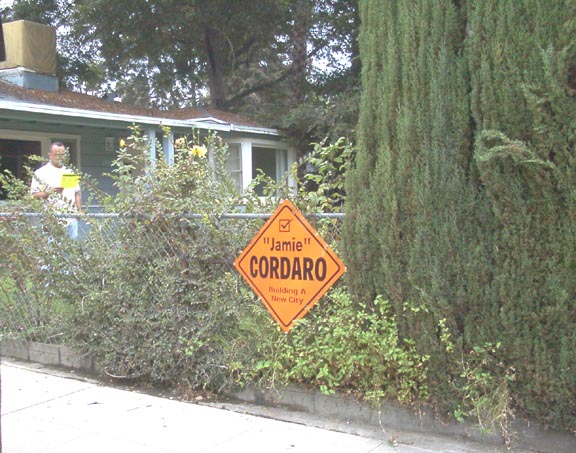 The owner of this property seen in the background, told me that he had just removed one of Cardaro's signs which Cordaro placed without permission, but did not even see the one shown in this snapshot. The owner removed it while I watched. The owner did not want any signs on his property.

In a conversation I had in Spanish with Carlos, the elderly owner of this property on Friar in Van Nuys, he told me that he did not give permission to Cordaro to post his signs. I asked Carlos why he himself did not remove the signs. Carlos, who comes from a very different culture, told me that he didn't know if he was allowed to remove them.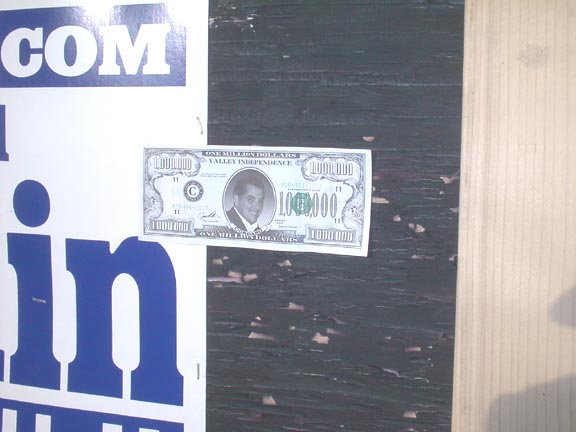 Cordaro's unauthorized sign on boarded up house without owners permission.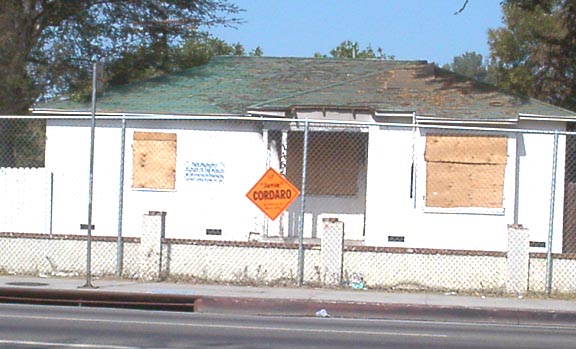 Cordaro's "Million Dollar" campaign handout was found pasted with chewing gum on my campaign trailer in my driveway on the morning of October 13, next to my own sign.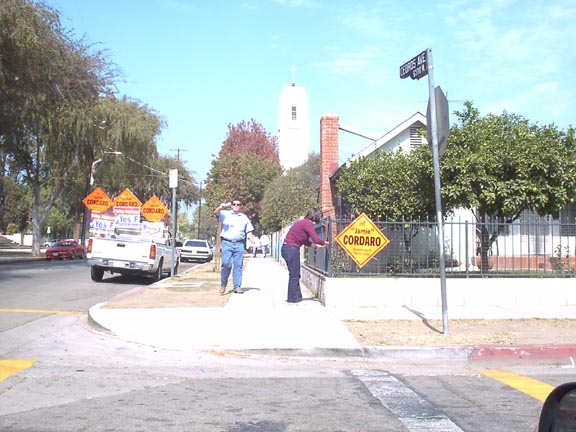 Jamie Cordaro and helper placing election signs on private property. The owner of this property is a friend of mine. She had previously removed two of Cordaro's signs which he placed on this property without permission. In fact, she had already given me permission to put my sign up.  After the first time she removed Cordaro's signs I placed mine. After two days, my sign mysteriously disappeared followed by Cordaro again placing his signs on the property. Saturday, October 19, 2002, The owner told me that Cordaro's helper was already in the process of hanging the signs when Cordaro asked permission. Feeling coerced and not wanting to be hassled, the owner consented but immediately removed the signs after Cordaro left.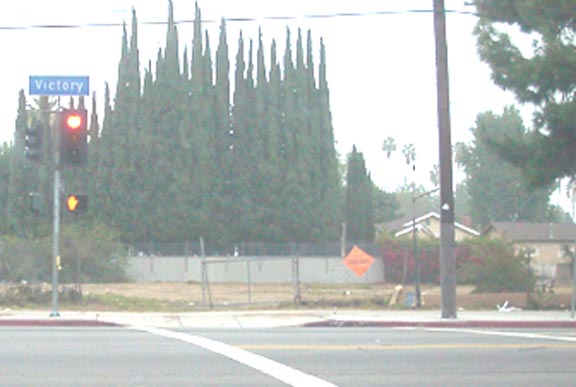 Cordaro's unauthorized sign on empty lot without owners permission.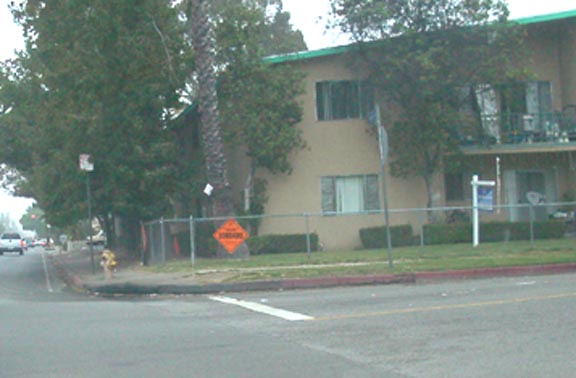 Cordaro's unauthorized sign on apartment bldg without owners permission.

Using unfair campaign tactics, below can be seen are just few snapshots of unauthorized signs placed by Jamie Cordaro. All the unauthorized postings on private property can be substantiated with witnesses.

Hal Netkin